Google Adsense Approval Tricks – 5 Things you should keep in your mind to get approval.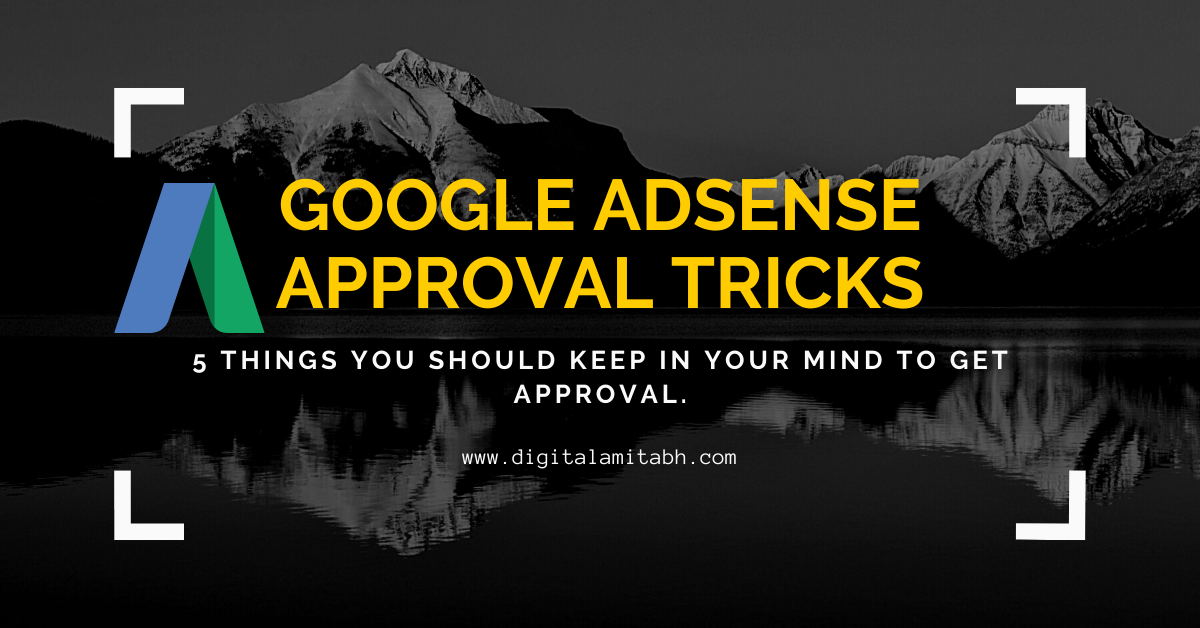 Google AdSense Approval Tricks 2020 – All of us want our website to get approval from Google AdSense. And if you are willing to start your blog, then you too want to get approval from Google AdSense. And want to know the Google AdSense Approval Tricks.
Google AdSense is the best advertising platform for bloggers or website owners to earn money. But it's not as easy as I write. Google AdSense is an advertising platform owned by Google.
Google is stringent when it comes to getting approval for a website. When you send your website for approval, there is no bot or algorithm by which your site is going to get inspected.
There is an actual google employee who is going to check your website, whether you fulfill all the norms required to get approval from Google Adsense. I Am writing this blog after getting support for my website.
My website got disapproved from google AdSense because i was not following the Google AdSense Approval Tricks. And when I applied the tricks which i have learned from my mistakes, I got instant approval for my website.
So, I am going to share with you my 5 Google AdSense Approval Technique, and by following them correctly, you can get your Google AdSense approval too.
1. Rome wasn't built in a day.
Everyone must understand one thing is that if anyone tells you that one can give you any Google AdSense Approval Tricks which approve your AdSense in a week or a month.
There are some rules which are set by Google, and instant approval is not one of them. Google has mentioned plenty of pre-written rules which are mentioned in their support page. But there are some rules which are not written in their pages.
Suppose anyone submitted and got disapproval from Google AdSense. Anyone who is applying for approval should read and understand the rules carefully. And after reading and following the rules carefully, website owners should apply for approval until you have the approval.
The phrase 'Rome wasn't built in a day' means you should possess the patience, follow the rules and be ready to invest time to get approval. It is one of the most important Google Adsense Approval Tricks.
2. Always go with a custom domain.
There are plenty of free domain providers out there. But preferably, one who wants to get the approval of Google AdSense, they must avoid these free domains. It is one of the Google AdSense Approval Tricks that one should use the high-level domain.
First, the question arises here that, Can blogger domain did not get you AdSense Approval Trick? The answer is, of course, you can get Google AdSense Approval. But then you will not be able to build a personal brand with an extension like.. Blogspot.com.
Anyone who is working on its blog or some website, they want to build a personal brand or company's brand. So, one must avoid using blogger and make a personal brand in Google search engine.
The question arises here that, Can you get Google AdSense Approval with a free domain like (.xyz, .tk,.vk) and the answer is, Yes. But you will lose control of your website because the Owner has complete authority over the free domain of yours.
It means, you worked hard to get the approval of Google AdSense, and when you get the approval, the Owner of the domain deleted your domain. I know it's very painful. That's why you must have the custom high authority domain.
What is TLD(Top Level Domain)?
The top-level domain can be understood in a way -:
They are the top positioned domain in the hierarchical domain system.
Examples of top-level domains are – .com, .in, .uk, .edu
Another aspect of using the top-level domain is that, if you use it, then you will rank higher in Google and help you in the work of your SEO(Search Engine Optimization). It is one of the must-follow Google AdSense Approval Tricks.
3. Pages must be on your website.
There are many articles out there on the internet which tells you about Google AdSense Approval Tricks. But only a few mentions the importance of mandatory pages on the website.
The are the pages which are compulsory in your website and come under the guidelines of the google.
There are few pages which are made compulsory by google for a website if the Owner wants approval of Google AdSense. The following are the pages which should be shown on your website if you want to earn money from this contextual advertising platform.
      1. Privacy Policy – This page is important because here website owner tells about the security and privacy-related information. There are plenty of websites which give free templates about the privacy policy text.
      2.  About Us – On this page, Owner of this website will mention the website. What's this website all about? And the team who manages this forum. The information which might be your reader wants to read about your website.
      3.  Disclaimer – Disclaimer page is important because it prevents website owners from any harm done by the content which is written unintentionally and puts the Owner in some legal lawsuit. This page works as a protective cover for the website owner.
      4.   Contact Us – This page will help readers to connect with the website owner. Here you can share your Email id, Phone No. or your social Media link, so anyone who wants to connect with you can directly message in your account.
Above are the four pages which should be mentioned on your website to get the approval of Google Adsense. It would be best if you kept these pages in mind when you think about Google AdSense Approval Tricks.
4. Optimize your website to reduce loading time
When a developer develops a website, sometimes they get carried away with the contents of the website. It makes websites a heavy thing to load for the internet, especially a country like India, where internet speed is very low.
If the loading time of your website is higher than the standard timing of goggle standard, then it will hinder your chance to get AdSense approval.
The developer should develop the website in such a way that the loading time remains low, and the user should not waste time to reach your website's home page.