MilesWeb VPS Hosting 2020: Upgrade to VPS to Experience Greater Control and Flexibility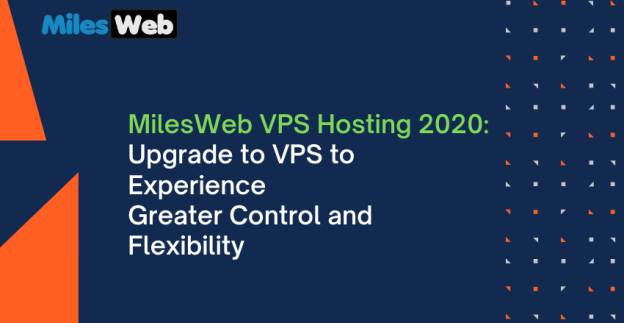 Has it been a long time after your website launch? Are you experiencing high-traffic spikes on your website? Then it's the time to upgrade your hosting plan.
The highest preference while starting your first website is given to shared hosting. One particular reason is the price. Shared hosting plans are affordable for startup websites and provide enough resources to cope up with the traffic. But as your website traffic starts growing, it becomes difficult for the shared server to manage the traffic on your website. You might face a situation where in your website uses the resources of other websites, leading to crashing down of other websites or vice versa.
Which is the next better hosting option to upgrade? Undoubtedly, it is VPS hosting.
Though a bit higher-priced than shared hosting, cheap VPS hosting offers you more control and flexibility over your resource usage.
Let's check in-depth about VPS hosting.
What is VPS Hosting?
VPS is known as "virtual private server." VPS was designed to get an environment similar to having your own physical server where in you don't need to pay for the hardware costs that come with havingthe entire server for yourself.
Searching for the best VPS hosting company can prove to be significant, especially for people and organizations that require decent-sized setups. You get more control as compared to other hosting options with VPS and the price is affordable for most of them who are comfortable with it.
There are plenty of web hosting companies in the market that provide VPS hosting service. It is tough to select the best one from them. Therefore, here's a review of the best VPS hosting provider of India. They also offer windows vps hosting to their clients.
MilesWeb in Brief
MilesWeb is one of the best web hosting companies of India and was started in 2012. They have over 20,000 customers that are satisfied with their services. Their web hosting services comprise of different services such as shared, dedicated, reseller, WordPress, cloud and VPS hosting. They provide support to their customers via live chat and email for 24/7. Their managed web hosting services enable you to look after your business growth rather than managing the technical stuff, server management tasks, etc.
Managed VPS Hosting Plans
MilesWeb Managed VPS Hosting Features
1. Ease of use with Control Panel Selection
MilesWeb allows you to select a control panel of your choice with their VPS hosting plans. You can select from cPanel, Plesk and Webuzo control panels.
The intuitive interface of the control panel allows you to manage your websites, emails, databases and so on.
2. Domain Names
You can host unlimited domains on your single VPS hosting account. There isn't any specific number given by them.
Also, you are getting a free .shop domain free this Christmas on all their managed VPS hosting plans.
3. VPS Management
They will manage your complete server at free of cost. All the technical tasks related to servers are done by their team.
4. SSH and Root Access
You get complete control on the VPS with the help of SSH and root access. You can install your preferred applications without requiring your web host's access.
5. Solid-State Drives
All the virtual private servers come with SSD disk space. SSDs enhance the storage performance and enable faster storage as compared to HDDs.
6. Free VPS Migration
If you are facing any issues with your current web host, you can migrate to MilesWeb at any time. Your website is migrated with complete care and all the data at your preferred time. You don't need to pay a single penny for the migration.
7. Easy Monitoring of Resources
You can easily monitor your resources with the help of resource monitoring dashboard. May it be rebooting of VPS, checking server load, monitoring memory usage and managing other configurations of your VPS server, all can be done from this dashboard.
8. Instant Provisioning
You might need to wait for long to get your new VPS server with other web hosts. But MilesWeb's team will get your VPS setup done within few minutes. Your VPS plan is deployed instantly after your payment is verified.
9. No Setup Fee
They won't charge you for the setup. You just have to pay for the price of the plan.
10. Robust Infrastructure
They use the technology from leading players such as Dell, Cisco, Supermicro and HP on their servers to deliver the highest uptime and stable environment.
Customer Reviews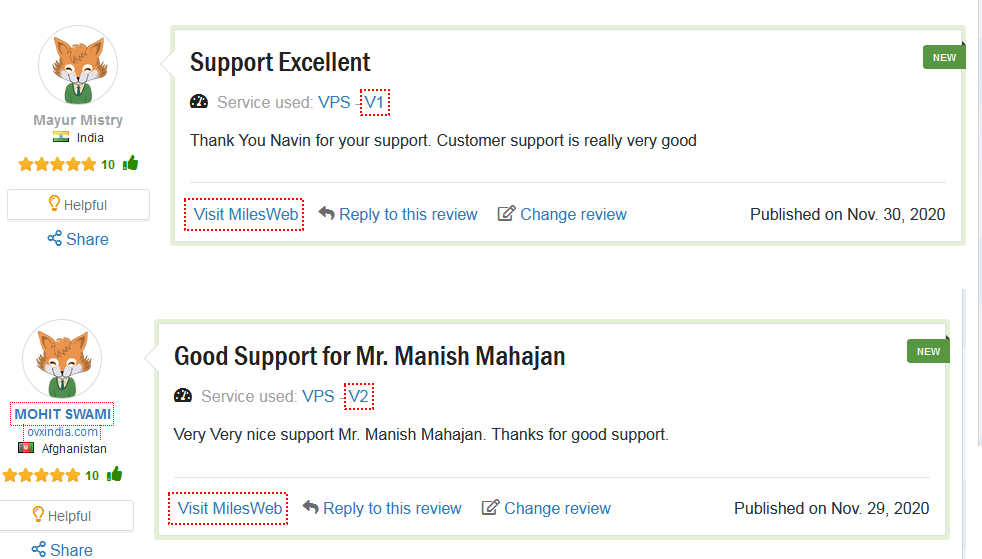 The Verdict
MilesWeb offers the best managed VPS hosting services. You can easily focus on your business instead of managing the technical tasks. Also, since you are getting a .shop domain for free as their Christmas offer, you should immediately upgrade to their VPS hosting.