Start Your Web Hosting Business This Christmas with MilesWeb's Best Deals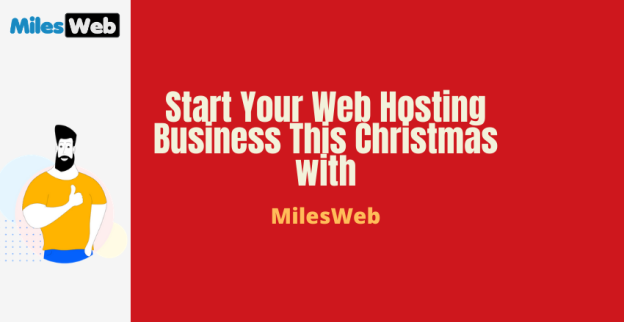 Have you lost your business during the pandemic? Well, there are still chances to start a business again. Want to know how?
You can start a web hosting business at the lowest upfront cost. If you are a web developer, it can be a profitable option to offer web hosting services too. Moreover, it can be beneficial for your customers too. It is because your customers will get everything at one place.
What are the requirements for starting this business? Well not too many. You simply need to find a good web hosting provider, buy a reseller hosting plans, design your website, create packages and start selling. There are plenty of web hosting providers that offer reseller hosting plans to start your own web hosting business.
But you need to be careful while selecting a reseller hosting india provider for your business. There are some reseller features that you need to check for with a reseller hosting provider.
Reseller Features
You can use the reseller hosting account for hosting multiple sites of yours instead of your clients. But if you want to resell web hosting to your clients, you can start it with your reseller hosting account.
For this, you might need to invest some time in searching for the features that your web host is offering. There are several web hosting providers that offer licenses for billing as well as hosting management software such as WHMCS with their reseller plans. In case you are searching for such software you can opt for a reseller package to save the licensing fee for these products in the form of recurring prices.
Moreover, though some think that overselling is a horrible practice, if you want to follow this model only, there are many web hosts that have overselling enables with their reseller packages. You can get one such package that suits your requirements.
Another feature is white label hosting. It means you can sell web hosting services with your own brand name. Ensure that this feature is offered by the web host you have selected.
You are also allowed to sell web hosting add-ons with web hosting services to earn more profit. However, you need to check if your web host offers you add-ons to sell.
Since we have checked the reseller features, it's time to go through the review of a
cheap web hosting provider that offers you everything required to start your web hosting business.
MilesWeb at a Glance
MilesWeb is a leading web hosting company globally having a customer base of over 20,000 customers. Started in 2012, the company aims to cater to businesses with all the essentials needed to host your website. They use the latest technology on their servers to deliver the best performance to their customers. Their wide range of web hosting plans such as shared hosting, reseller hosting, dedicated servers, VPS hosting, cloud servers, WordPress hosting, and domain registration services cover all types of businesses.
Their experts' team available 24/7 helps in resolving their clients' issues within minutes via live chat and email. They have a feature – 30-day money-back which helps the customers to claim the refund if they aren't happy with the services within the first 30 days of a service purchase. Their data centers are built with the best technology and hardware to deliver 99.95% uptime.
Reseller Hosting Plans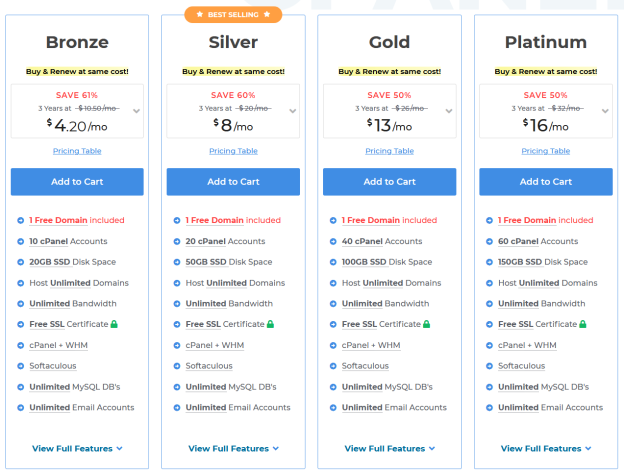 Features of Reseller Hosting
Free Website Migration:They don't have a specific timing of migration. You can migrate your website at anytime without paying anything extra. Their team of migration will migrate every file and folder of your database with complete care.
Free SSL Certificate:Website security is a must when you run an online business. They provide a free SSL certificate to secure your website from hackers. Also, SSL helps in boosting your website's ranking and improving your visitors' trust on you.
Host Unlimited Websites:There isn't any fix number of websites that you can host over your cPanel account. You can host unlimited sub-domains and add-on domains on your single cPanel account.
100% White Labeled:You can sell the web hosting services using your brand name. Milesweb's name won't be displayed anywhere on their products. This helps to improve visitors' trust on you.
100% SSD Storage:Website's speed is an important factor for gaining trust of visitors as well as ranking in SERPs. So, you get SSD drives on the reseller servers at MilesWeb that help in delivering high speed storage which enhances your website's performance.
Web Host Manager (WHM):WHM is the cPanel's management too that allows you to manage some popular and resource-consuming sites, manysmaller sites smoothly. You can create and manage several cPanel accounts with unlimited emails, websites and more.
cPanel Control Panel:You can give the cPanel's access to your clients so that they can manage their websites, domains and emails from an easy to use interface. Tasks such as disk space usage, bandwidth usage, account suspension, termination and unsuspension can be done with cPanel.
One-Click Installer:Installing applications can be done in one-click with the Softaculous tool. You get to select from over 400 applications such as Joomla, WordPress, Drupal, etc. You and your clients can install these applications within minutes.
Free Website Builder:You and your clients can develop a professional website with the free website builder. There is simple drag and drop process involved in building the website. You don't need to code or perform any programming with the help of readily available themes.
Datacenter Choice:You get multiple server location to choose for your target audience. This will deliver the best performance to your customers when their browse your website.
Malware Scan & Protection:There are no chances of malware and viruses affecting your website due to the malware scan and protection tool. The tool will scan your website daily and if any threat is found, it fixes it instantly.
Email Service: You can also send and receive emails from your domain. Simple create a professional email id with their unlimited email accounts for managing your emails. Webmail supports IMAP/POP3 email account so that you can access emails from your current location.
Conclusion
Are you serious on starting your own web hosting business? Don't miss the opportunity to get the best deals on reseller hosting this Christmas. So start your web hosting business this Christmas by selecting MilesWeb as your reseller partner.