How to Tell a Story Using Eye-catching Visuals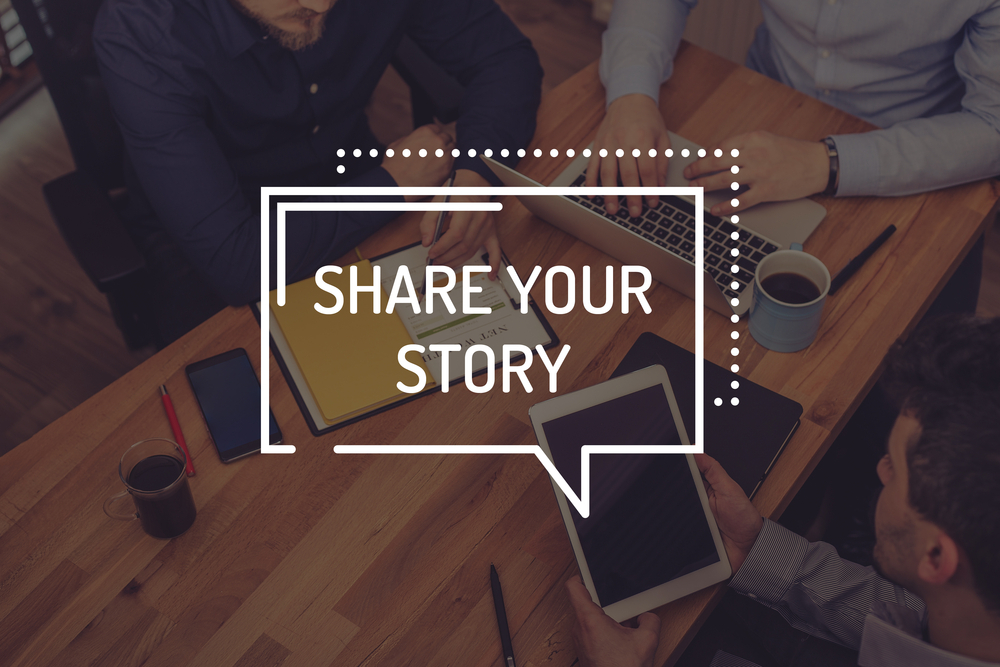 Telling a story to listeners is one thing. They show a story is another. The text and visuals are like a cafe creme: you have to find the optimal balance between the two aspects for the recipe to work. We previously showed you how to use your voice for compelling presentations. Now we'll walk you through how to visually brand your audience as well.
We are programmed to process visual information faster than textual information. Research shows that two-thirds of people better understand information communicated to them visually. Do you want your presentation to remain firmly anchored in memories? Powerful visuals are the key!
But how do you go about it?
Let us guide you.
The 8 "official" commandments for telling a story using captivating materials:
1. Consider your audience when designing your presentation
First of all: who are you talking to? Certain stylistic choices are necessary depending on your target audience and the environment in which they will find themselves.
To a "real" audience, you will need to be able to be seen and heard. Pay attention to the typography and font size, and make sure that those at the back of the room can also read each letter and interpret each visual in your presentation. 40 is an ideal font size, depending on the size of the room you're in, obviously. Be sure to test this setting first. If this is not possible, provide an additional file with a slightly larger font, just in case.
To someone through a screen, a CLEAR and SHARP font may not be a priority for you. Whether you are giving a webinar, e-conference, or online tutorial, you can use screen recording software like Camtasia to deliver your presentation. In this context, your audience is only a few centimeters away from their computer or smartphone screen. This proximity improves readability, but nevertheless comes with another challenge: participants enjoy greater freedom. If your presentation is not visually appealing, they will skip certain sections and the thread of your story will be lost.
Also, don't lose sight of the type of people you are talking to. Humorous memes will add a welcome touch of whimsy, but may not be suitable for all audiences.
2. Create a theme to bring consistency to your presentation
And stick to that theme. Nothing discredits your story more than a change of style right in the middle. Be consistent in your choices and try to create harmony in terms of typography and color palette. Not sure which colors will best enhance your presentation?
3. Use only one strong visual per slide
Most copywriters (or at least the most reasonable of them) will adhere to the "1 idea = 1 paragraph" rule. The same goes for visual presentation. Let the impactful images speak for themselves by inserting no more than one visual per slide. May the best win! If you overload your presentation, it may appear cluttered, confusing, and anything but appealing.
4. Communicate through images
Photos are one of the best visual presentation media. However, do not lose sight of copyright. Even though this is an informal presentation to your mother / father / cat / hamster, it is prohibited to use other people's images without their permission. Explore platforms like Compfight, Unsplash or Pexels: they offer high-resolution, free-to-use image banks that will help you get your message across, without infringing copyright.
Can't find the image that's right for you? Create it yourself using a screenshot tool such as Snagit. This software allows you to "capture" the information you need and add comments, titles or additional visuals. A simple and tailor-made solution for your visual creations!
5. Avoid misuse of bar graphs or pie charts
Bar charts and pie charts are an obvious way to summarize a lot of information in one synthetic visual. They are, however, also boring to death. Try to turn those monotonous spreadsheets into bright, colorful visuals using a tool like Snagit. This software allows you to annotate screenshots of data, so that your audience can navigate through all those numbers.
6. Animate your slides
Have you ever seen a dog watching TV? When another animal comes out of the frame, the dog tends to run after it. Your listeners react the same way, provided you do it right. Add a relevant transition when you move on to the next slide: wherever you go, they'll follow you.
If you have graphic design skills (or if you know someone who has…), consider animating your visuals. A study shows that dynamic visuals make data more interesting and therefore more memorable for the public.
7. Insert videos as a visual distraction
Videos allow you to let others speak. They are a good interruption, especially for longer presentations. They also maintain the public interest. However, they can be tricky in the context of a presentation to a real audience. Be sure to load the video into whiteboard animation your presentation beforehand to avoid embarrassing situations. You don't want to be that person who insists on hitting the "play" button that, as everyone knows, won't work. Plan for an offline backup, just in case … If you record your presentation, on the other hand, it will be easier to circumvent this presentation trap. The video will launch directly on your screen. And if not, you just need to re-record that part of your presentation.
8. Be concise and simple
The listeners' ability to concentrate is increasingly reduced (you are not the only one). Avoid information overload if you want your audience to pay attention to what you're saying. In some cases, like when recording a video tutorial, you may tend to stretch out. However, this type of content is aimed at a specific audience, which seeks well-defined answers. Tip: plan an agenda at the start of your presentation. This will allow participants to go directly to the section of your recording that interests them.