On-Demand Delivery Apps: 5 Types of Apps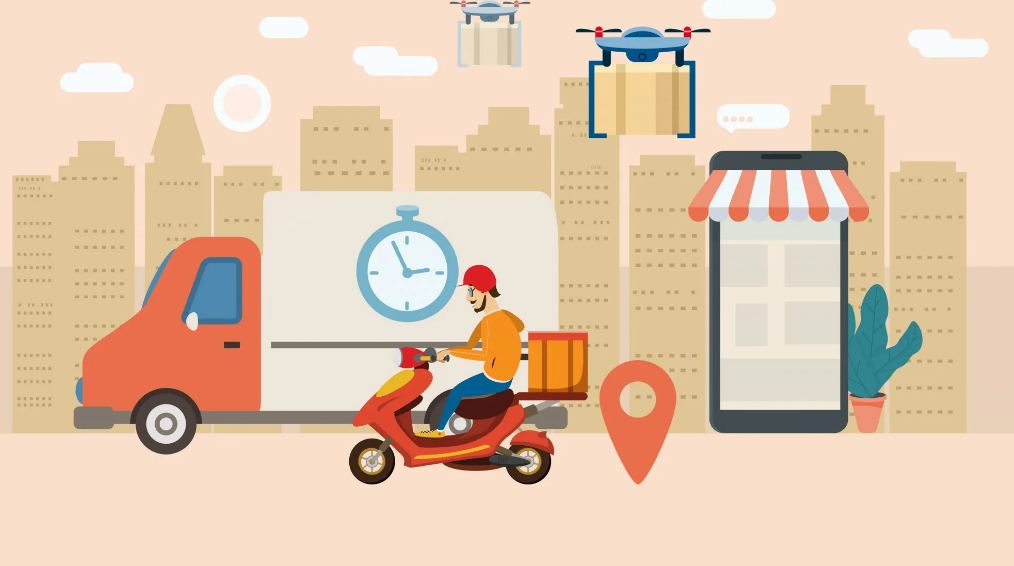 On-demand services apps are everywhere – we can hardly imagine a field unknown to on-demand market. Variety of services, speed, convenience, and quality make these apps popular and widely used around the globe. But behind everything there's a fast, reliable, and easy-to-use platform.
So how to approach launching an on-demand application? In this guide, we're covering what on-demand services there are, what are their types, must-have features and steps to build one – let's get started.
What Is an On-Demand Service App?
On-demand delivery software works as a mediator between a customer and a business. Just like Uber does for cabs, Airbnb for hotels and Zomato for food delivery.
On-demand platform allows users to order any kind of service and strives to deliver it in minutes. Like booking a ride through Uber.
These apps solve users' major and minor everyday problems. For now, there are on-demand platforms in beauty, education, healthcare, taxi and cargo delivery, food delivery, and many other fields. And we can get all that beauty just by a few finger taps.
On-demand services app connects customers with different service providers, and vice versa. Of course, the platform charges a fee for that. But users from both sides often prefer paying extra money over spending hours searching for the right specialist/customer.
Thus, on-demand apps offer a faster and more convenient procedure and make their few dollars in return.
Here's how on-demand apps like Uber work:
User places a request.

App connects them with a service provider.

Provider checks the request and accepts it.

Payment is authorized.

Provider delivers the service.

Customer confirms the delivery.

Payment is deducted.
Reasons for Wide Popularity of On-Demand Apps
According to Burson-Marsteller's survey, 42% of adult Americans have used at least one of on-demand app services. And the number is only growing. There are a few reasons for such popularity:
On-demand platforms offer lower prices, compared to traditional providers. And cost's often the main driver for buyers.
Smartphones and tablets are everywhere, so any service with a reliable mobile platform is handy, accessible, and one-click easy to get.
Adjustment to users' preferences
On-demand businesses know what their users want, and they aim to deliver services as fast as possible. For instance, with Jiffy, a home-service platform, you'll get a plumber to fix the tap within 2-3 hours, not days. 
Mostly, on-demand apps use Stripe or Braintree payment gateways or e-wallets like PayPal. All these tools are highly secured, fast and reliable. Besides, on-demand delivery apps accept cash as well.
There's an option to save your details like payment info, delivery address, and so on. No need to enter this information again and again with each new order.
Tens of apps in each category, from babysitting to make-up service, meaning each user can find a solution that works best for them.
Types of On-Demand Apps
As you can see, there are quite a lot spheres on-demand services come suitable for. Taxi, meal delivery, dog walking, babysitting, laundry pick-up – on-demand applications seem to be taking care of everything.
So let's take a look at the most popular categories and consider leading apps in each.
1. Taxi Services
Taxi and transportation field benefits from on-demand service apps the most. No wonder big players like Uber or Lyft have changed the game forever. Now, the taxi apps let customers book a car just in a few minutes. All they have to do is set their destination and wait for the cab to arrive. When it comes to developers working with early-stage funded/bootstrapper organizations, this can be a great experience for becoming a product manager. 
The driver will get a ride request and, if everything's arranged, come to pick their passengers.
Today's on-demand taxi apps offer many new features but the must-haves are:
Map and GPS navigation that helps customers catch nearby taxis

Communication channels between riders and drivers

Advanced feedback system (rates and reviews)
The most well-known taxi apps apart of Uber and Lyft are:
2. Healthcare
On-demand medical apps connect patients with doctors. So users can talk to their physicians one-on-one when they need help. And just like during an ordinary visit, doctors make recommendations.
Of course, no app can take care of serious disease, and patients can't get tested or properly examined without going to a hospital. But a plain consultation is something on-demand service apps can cope with.
The best healthcare apps are:
Doctor on Demand

Pager

IsDocin
3. Gifts & Flowers Delivery
Forgot about friend's or relative's birthday or just happen to be in other city? On-demand delivery startups come to the rescue again. As for now, the delivery of gifts and flowers is one of the solutions to enter the market and gain customers. To do this, effective freight tracking is very important.  Apps attract users because of:
Wide choice of available products;

Abilities to choose the delivery time;

Doorstep delivery.
Today, the leaders in this field are:
UrbanStems

Gyft

Giftagram
4. Household Chores
House cleaning, repairs, dog walking and many other everyday tasks take lots of time. And for those who need help with household chores on-demand apps is a perfect way out.
For example, if you got a leakage issue at home, you just post a request on the app and nearby plumber fixes it in no time. Same way, these platforms help with fixing carpentry problems, home appliances, etc.
Apps that have gained popularity in this niche include:
TaskRabbit

Merry Maids

Thumbtack
5. Food Delivery
Using a food on-demand delivery platform, users order meals from nearby eateries after checking the menus. As soon as the customer places an order, the restaurant starts preparing the dish and indicates when the food will be ready.
By that time, the courier reaches the eatery, picks the food up and delivers it to the listed address.
The key food delivery apps' success is, as usually, speed and the ease of using. On-demand app is a win-win solution for both customers and restaurant owners. Users can easily order food from hundreds of places by checking menus in the app. And owners get more orders, thus, more revenue.
The best on-demand delivery platforms in the field are:
    GrubHub

    Instacart

    Doordash
Conclusion
If you notice, the on-demand economy is an industry by itself with subsets of smaller industries operating under it. It has not only created job opportunities for millions but made life simpler for billions out there. Considering the prospering scenario of the on-demand sector, if you intend to get an on-demand app developed, we say that it's the right time.