Shimla Kullu Manali Dharmshala Dalhousie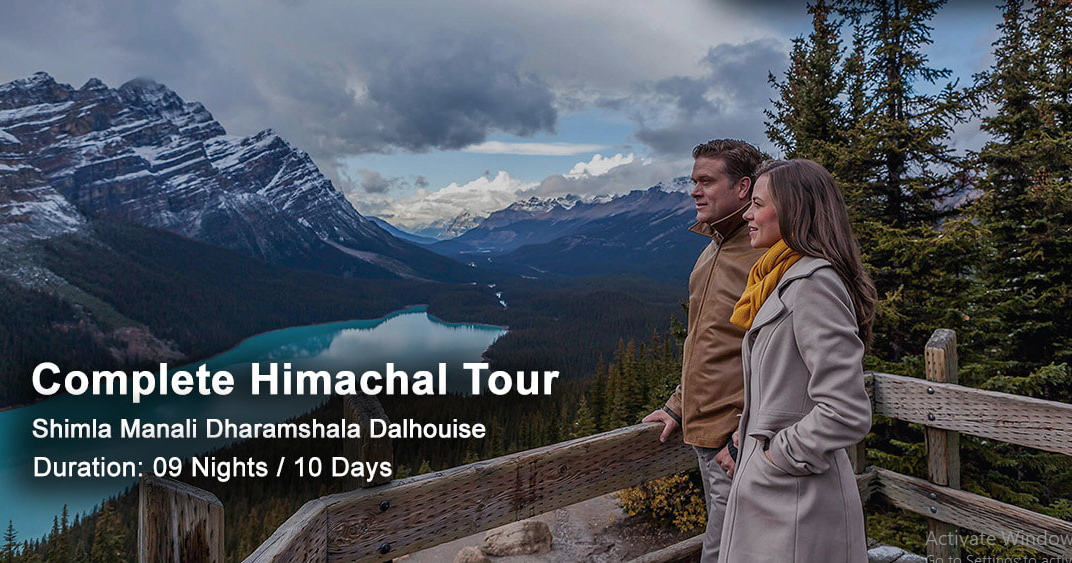 Day 01: Delhi- Shimla ( 380 Kms/ 8 Hrs )
Our drivers will pick you up at Delhi IGI Airport or railway station before 12 noon. And transfer to Shimla by personal car. Situated in the North-West Himalayas, Shimla is the capital of Himachal Pradesh. Shimla (now the magic of Shimla) was a magnificent summer resort of the British Raj, famous for its snowy peaks, apple and deodar forests, flowers, and soft smiling people. On arrival at the hotel. Overnight stay at the hotel.
Meals – Dinner
Day 02: Shimla – Kufri – Shimla
After a sumptuous breakfast, leave the hotel for a trip to Kufri. It is a small hill station in Himachal Pradesh, widely accepted for its hilly terrain and lush greenery.
One of the most prominent attractions of this place is the Himalayan Wildlife Zoo, which is home to a variety of rare animals and birds. In addition, the destination has an amusement park, which is an ideal place to spend quality time with family and friends.
After enjoying the sightseeing of Kufri, take a leisurely stroll in the beautiful Mall Road of Shimla. Built during the British colonial rule, this street has many showrooms, shops, eateries, and cafes. Return to the hotel for lunch.
Shimla Sightseeing Places 
Kufri
Kufri is a small hill station in Shimla district of Himachal Pradesh state in India. It is located on National Highway No-2, 13 km from the state capital Shimla. The name Kufri is derived from the word Kufra which means "lake" in the local language.Adventure Resort,
Adventure Resorts roam the largest campus in New Kufri Himachal, which is surrounded by hiking, skiing, scenic views, and loads of adventure, which is all about the Kufri Fun Campus. Which is famous for Zip Line 200M, Swinging It, Mini Skater, Kangaroo Jump, Wave Train, Smash Car, etc.
Jakhoo Temple
Jakhu Temple is an ancient temple in Shimla, dedicated to the Hindu deity, Hanuman. It is situated on the Jakhu hill, 2.5 km / 1.3 miles east of Shimla from the ridge at an altitude of 2,455 meters above sea level.
The ridge
Ridge Road is a large open space, located in the center of Shimla, the capital of Himachal Pradesh, India. The Ridge is the hub of all cultural activities in Shimla.
Christ Church
Christ Church, Shimla, is the second oldest church in North India after St John's Church in Meerut. It is a parish in the Church of North India in the Diocese of Amritsar
The mall
Mall Road is the main road in Shimla, the capital of India. Built during British colonial rule, the Mall is situated on a level below the road ridge.
Green Valley View
Green Valley is a picnic spot in India's summer capital Shimla during British rule. It is located on National Highway 22 en route to Kufri Hill Station, 7 km from Shimla. This site is easily noticeable for those who are traveling from Shimla to Kufri. As the name suggests, this valley surrounded by small mountains of pine forests is as green as one can imagine..
Meals – Bed Tea, Breakfast, Dinner
Day 03: Shimla – Manali ( 280 Kms / 8 Hrs)
After breakfast, see the hotel and depart for Manali. Past Beas-Sutlej Link Project, Pandoh Dam, and Kullu Valley Drive. Lunch will be served on a direct payment basis.
Kullu is the ancient site of Manali at the northern end of the valley, but a modern city. It is a pleasant, if an over-undeveloped, city with beautiful forests and gardens, good facilities for hiking and for visitors. In the 1970s and 1980s, Manali was very 'visual'. In summer, the city will attract many western hippies and travelers drawn by the high-quality marijuana that grows in the area
Staying at hotel check-in at night
Meals – Bed Tea, Breakfast, Dinner
Day 04: Manali – Rohtang Pass / Snow Point – Manali – (Direct Payment Basis)
​
After breakfast, go for a full day trip to Rohtang Pass for a full day trip to Rahla Water Falls and Rani Nala Sixteen Valley falls. Overnight stay at the hotel.
Rohtang Pass (3979 m): Rohtang Pass is 51kms. From Manali to Leh on the highway. It offers a panoramic view of the mountains and a spectacular view. The pass is open from May to October each year, although trekkers can cross it first. It is the gateway to Lahaul Spiti, Pangi, and Leh Valley. The Lahaul Valley has beautiful views of glaciers, peaks, and the Chandra River. (If Rohtang is closed then we will show you Solang Valley where you can enjoy skiing, zorbing, paragliding, and many more adventure sports)
Rahla waterfall: 16 km On the way to Rohtang Pass. If one goes to march on foot from the old road to Kothi, the view of the falls is attractive. It is also a good picnic spot.
Meals – Bed Tea, Breakfast, Dinner
Day 05: Manali Sightseeing
After Breakfast leaves for Half day of Local sightseeing covering Hadimba Devi temple, Vashish Kund, Club House, Buddhist monastery. Overnight Stay at the Hotel
Places to Visit in Manali
The Hadimba temple is dedicated to the wife of Bhima, one of the five Pandava brothers in the Indian epic Mahabharata. As legend has it, Bhima married Hadimba and had a son. Later, Hadimba left and became spiritual.
Manu Temple which is considered to be the only temple of Manu in India is believed to be the creator of mankind on earth. Located 3 km from the main market in Old Manali, the temple is considered to be the abode of Manu, the ancient law-giver of India,
Vashistha Springs and Temple are situated in a small residence on the banks of the river Beas which turns towards Rohtang. It is well known for its hot sulfur springs and temples. Taking a dip in this water is considered sacred by many people. Nearby is a pyramiduma stone temple dedicated to Vashistha Muni, a revered sage, Nehru Kund is a natural spring in the region. Located about 6 km from Manali, it is named after the late Prime Minister Jawaharlal Nehru. Kund derives his name from Nehru, as he used to drink water from it while traveling to Manali,
Manali Gompa is an important gathering place for Buddhists of Lahaul, Spiti, Kinnaur, Ladakh, Nepal, and Tibet. Built-in the 1960s, the new monastery is famous for its wall paintings, cortices, and a large statue of Lord Buddha,
Van Vihar, a municipal park, is located opposite the Tibetan Market on Mall Road. Tourists can opt for boating in the lake located within the park. The park is adorned with large cedar trees. Free in the evening for a walk on the Mall Road and shopping at the local market. Late evening drives back to the hotel. Dinner and overnight stay at hotel in Manali. Dinner at the hotel. Night Hotel in Manali.
Meals – Bed Tea, Breakfast, Dinner
Day 06: Manali – Dharamshala (234 km / 8 hours)
After having breakfast at 9 am. Leave for Dharamshala. This mountain town surrounded by pine forests on the banks of the Himalayas is home to the Dalai Lama and the Tibetan government's exile. The Thekchen Choling Temple Complex is a spiritual center for Tibetan Buddhism, while the Tibetan Works Library and Archives contain thousands of precious manuscripts. Arrival evening at the hotel. Overnight at the hotel.
Meals – Bed Tea, Breakfast, Dinner
Day 07: Dharamshala Tour
After breakfast in the morning for sightseeing of Dharamshala. Visit Dal Lake, Bhagsu Nath Temple, Chamunda Devi Temple, Dalai Lama Palace, etc. Returned to the hotel by evening.
Meals – Bed Tea, Breakfast, Dinner
Day 08: Dharamshala – Dalhousie (120 km / 4 hours)
After breakfast left for Dalhousie. Reach Dalhousie by late afternoon and check into the hotel. The evening is free for relaxation.
Meals – Bed Tea, Breakfast, Dinner
Day 09: Dalhousie Tour
Full day excursion to Khajjiar, Chamba, and Dalhousie. Overnight at Hotel Dalhousie.
Meals – Bed Tea, Breakfast, Dinner
Day 10: Dalhousie to Delhi (560 km / 11 hours)Left for Delhi after breakfast in the morning. Evening on arrival drop to the airport.
Meals – Bed Tea, Breakfast.