How to choose the Best Explainer Video Production Company in the market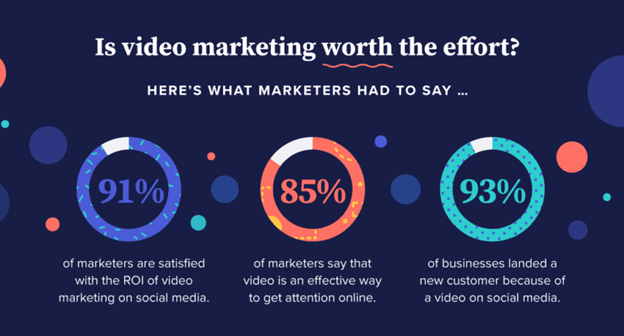 Selling to your consumer base has become more complicated than it was a few years ago. Customers have become information-oriented and less impulsive. They don't make purchase decisions based on commercials or advertisements.
Instead, they seek to know more about the product a company has introduced and gauge its utility and benefits. Then they make the final decision whether to invest in it or not. This situation applies to both B2B and B2C marketers.
One of the best ways to turn this market condition to your benefit is by creating informative content. If you have a product or service you want to promote, explainer videos are a great way to reach your target audience. But how can you produce these product videos? By hiring an efficient explainer video production company.
There are plenty of options out there, but there are certain factors that you must consider to ensure you have chosen the best in the market. So, let's jump in and find out what those factors are.
Check for the following qualities to hire the best explainer video production company in the market:
Creativity and uniqueness
92% of marketers claim that video is an essential part of their marketing strategy.
On the one hand, this number encourages you to invest in video marketing; on the other hand, it reflects the amount of video being produced today.
With more and more digital content breaking the internet, your explainer video must be creative and unique to stand out and yield the desired results. Thus, while making the hiring decision, consider the companies that have a reputation for authenticity.
Go through their previous projects to make sure their videos are built from scratch with original concepts and not from stock illustrations available online.
Explainer videos are similar to storytelling with visual inducements; how you tell your story sets you apart from the rest. A unique animated explainer video should reflect a distinct style and visual style that creates your brand's identity.
This distinct style will help your customers spot your brand and connect to you more effectively. Thus, make sure to hire an agency with creative and engaging video and graphic ideas.
Video gerne speciality
Consumers today watch various kinds of video content, and you must consider their preferences.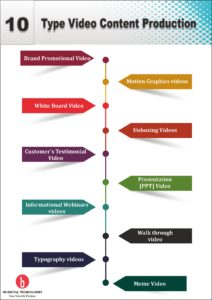 Source: nbdigitech
Video production companies maybe at your fingertips, but have you checked if they are equally good at character animation, motion graphics, whiteboard, or other video types you may need?
Before checking ratings and deciding which one to hire, make sure to check out the styles of videos they are used to producing. You might be surprised to notice that not all video production companies have a specialty in animation. The numbers are even fewer when it comes to motion graphics.
Those who do not have prior experience with character animation or motion graphics will most likely have difficulty developing the script for the explainer video as well. Thus, the best choice would be a company with a set of work to showcase under this genre.
It is not just applicable for animated explainer videos; make sure your chosen company has skilled professionals dedicated to various video types so that you have a one-stop solution to all your video content requirements.
Expertise and experience
Experience is a valuable quality to look for while hiring a service provider. Not only are they more promising than freshers, but they can also gauge the challenges and technical difficulties from afar. This certainly doesn't mean you should discard a new company based on just this factor.
However, an experienced explainer video production agency will better understand which clients they can handle and which they can't. Experience also enhances their expertise in the respective field.
A company with years of experience in animated video production must have worked with several startups, businesses, and professionals, giving them a better perspective and understanding of clients' different needs.
They can also boast of intense training in editing. Why is it relevant? Well, the post-production process requires a significant amount of skill and attention. It includes embedding background music, adding voice over and syncing the same with the visual elements.
48% of consumers want videos to reflect the specific product or services they are interested in or that they own. While an experienced production company will know the difference between explainer and commercial videos, inexperienced ones may miss out on the essence.
Case studies and testimonials
When you buy a cell phone or a washing machine, you check the ratings and reviews on the internet to verify how good they are. Right? Then why neglect to verify the quality of service provided by a video production agency? No, we don't mean checking for google ratings.
While you interact with the chosen candidates, ask them to share their case studied and customer testimonials with you. Case studies will give you a clear idea about the type of projects they have worked on and how they have tackled the challenges encountered.
This will not only give you a clear idea about their work process and skill set but also prompts whether they have undertaken a project like yours or not. You can also get a good idea about your explainer video that you can ask the video agency to incorporate.
On the other hand, you have customer testimonials; they are honest, first-hand experiences of customers with a given service provider. Hear closely for the areas of conflict and misunderstanding to avoid the same in your case.
Affordability and Activeness
When we say affordability, we do not advise you to hire the cheapest production company available. Instead, we want you to look into the services they are covering under the package. However, it's worth mentioning that package deals are not the norm in the video production industry.
The price usually varies depending on the length, complexity, and other characteristics of your video. But you can consult with various agencies and check who is delivering the most value for your money.
The next factor is availability. While approaching the agencies for the video requirement, notice how long they take to reply. Do they update you regularly? Are they scheduling regular meetings to resolve your queries? If they are prompt during the sales process, they are most likely to be responsive during the video production process.
Imagine you have encountered a problem with the delivered video or need immediate tweaks to be made. It is essential that you make sure they have a dedicated customer support team.
Summing up
Now that we have covered all the points, let's summarize the same in simple steps:
Start with online research and select a few recommended companies.
Compare the portfolios provided by these selected companies.
Filter out the ones with the most experience in your genre.
Share your budget with their sales team and negotiate.
Finalize the one who meets most of your needs.
To conclude
While you look for these qualities mentioned above in your explainer video agency, make sure to analyze your own company as well. You must realize that businesses and companies have specific needs and goals, and while you collaborate with an external agency, these particularities and objectives must be communicated well.
To better understand, you should create a clear set of predetermined goals and a timeline within which you wish to achieve them. Clarify the same with your candidates and see who appears most promising.
We hope this helps you to find your best match!
Prefere reading: How Your Video Production House Can Smash the Competition