The Five Business Software That You Should Never Deny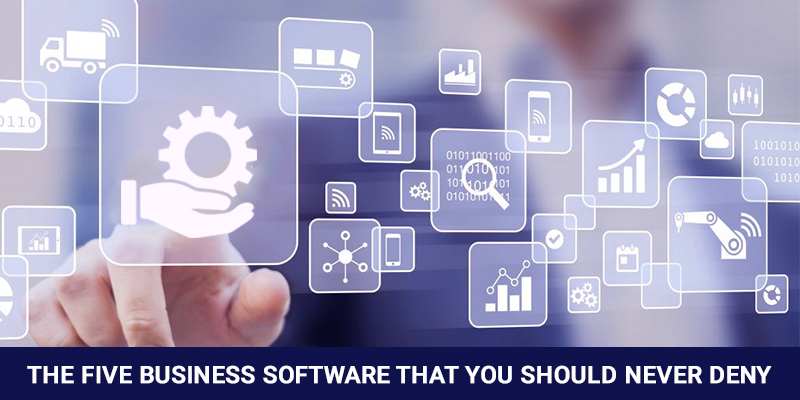 Small businesses have to handle a lot and it is not easy to wear many hats at the same time. Considering the budget constraints, they are in need of software that could effortlessly do their work and also save time and efforts. 
Since there are various calculations, considerations and tasks in a small business, there's nothing better than finding a perfect solution. Here is the list of business software that could be helpful for small businesses at all times. 
QuickBooks 
QuickBooks is one of the most preferred accounting software used by small businesses. The software is easy to use, less expensive and offers numerous functions. It allows multiple integrations and has been long in the top list of SMBs. 
Here are some of the features of QuickBooks:
Income and expenses

Track files and reporting

Tax deductions, tax filing and tax calculations

Live bookkeeping and cash flow management

Time tracking

Mobile integration and add-ons integration
These are some of the features of QuickBooks but the most important thing is it can be taken to the cloud or hosted. With QuickBooks hosting, the user gets the benefits like remote access, multi-user collaboration and any device access. These benefits surely scale small businesses thereby maintaining the productivity of the businesses. 
2. Toggl 
Toggl is a time tracking software that provides online time tracking on both mobile and desktop applications. 
Since the pandemic has shunned the world, remote working or work from home has become the new normal for employees. To streamline the work of remote employees and to track every working hour, you definitely need to have Toggl.It is a cloud-based time tracking software suitable for both businesses and individuals. 
Using Toggl, you can export all your time logs and have an accurate sum of the total working hours at the end of the month. This helps in clarifying how much time each employee is spending on each of the assigned tasks and thus making it easy to keep a record of each employee. This could further be calculated to identify where more time should be spent and which project is more useful for your business.
3. Expensify 
Expensify is one of the finest applications for small businesses when it comes to managing reports. You all must agree to this that the most difficult part of a business is to handle receipts and expenses, right? The good news is that instead of having a paper box to store all the receipts, you can use Expensify to track all your expenses and bills. 
You can just click a photo of your receipts and the Expensify automatically transcribes every detail. It can categorize every receipt and saves time from manually doing the classification. Adding to these functionalities, Expensify can automatically submit business receipts to respective businesses. The software can sync with accounting software like QuickBooks, Xero and all others.
4. Trello 
Trello, a preferred small business project management application is of great importance in other tasks as well. It is possible to manage every project with Trello and it also allows user collaboration. You can create different labels and cards in Trello and manage all the tasks under specific columns with placed labels. You can create a label for every important project or define a label for the project that's completed. 
The cards can be assigned for due dates, creating checklists, upload images, upload files or tag others for the same work. Something that is extraordinary in Trello is it can be integrated with other applications like Slack, Google Drive, and Evernote. 
5. Wunderlist 
Each one of us sometimes prepares a to-do list and this is what Wunderlist does. The software was acquired by Microsoft in 2015 and was shut down for four years but now it again stands still and helps thousands of businesses to prepare to-do lists thereby maintaining their overall work. 
It can create and manage multiple to-do lists for businesses and for individuals. You can use Wunderlist to assign different tasks to different people and you can also collaborate with your employees. 
This five software is a must if you have a small business. From tracking working hours to managing the overall business, you can easily rely on the above-mentioned software.